I'm not gonna lie, I'm kinda a sucker for online quizzes. My relationship style is a Siamese Cat, I belong to Ravenclaw House, and Donald Glover should be my celebrity bestie. Why do we do these? Well, they're fun. This is why the marketer in me knew that these have the potential for so much more. Plus, I'd noticed that some of these wouldn't give me my results without my email address. AH-HA!! It's a lead generation strategy. So, how do we make a Buzzfeed style lead generation quiz?
I was all too excited when I first stumbled on Interact, a software that you can use to create these little gems, AND collect leads. SCORE! So here is how you too can make your own lead generation quiz. (If you use this link you can sign up for a free trial and try it yourself too.)
Brainstorming
Sometimes I get carried away, so at first, I spent way too much time doing other people's quizzes for inspiration. (The upside is that if I ever meet Donald Glover I'm sure we'll be besties once I tell him that he HAS to be my friend because a quiz says so.) Then I realized that if I'm going to use this for lead generation for my company, I probably should think about my customers. Of course, Interact has already done the heavy lifting there, and they realize the benefit of that too. So even though I plan to create a custom quiz in the future, this time I decided it might be smart to use one of their templates.
Especially because they took the time to create templates for SO many industries and customer types. This is definitely something that will benefit my clients and I look forward to using these for client accounts as well. So I selected marketing because my direct customers are often Cheif Marketing Officers, Marketing Managers, or other decision-makers who hire agencies.
Template Selection
Then I was presented with some pretty great options. At first, I thought about using the content marketing one, but then I noticed this handy little sorting feature at the top of the page. Since these templates are already built, they're also tested, so they know some great data about them. Once I sorted by conversion the choice was a no-brainer.
I decided to go with "How Much Do You Actually Know About Online Marketing?" because it had the best conversion rate. Honestly, when I thought about it, it's just the sort of thing that I'd probably click on, if only for the vanity of knowing I'd ace it. (I'm totally a dork like that.)
Cover Page
The first thing I decided to change was the cover page. I tend to prefer people in my images, so I found a good stock photo of some people collaborating on a marketing challenge. I also added my own branding with our logo, and ultimately decided to leave the copy as written.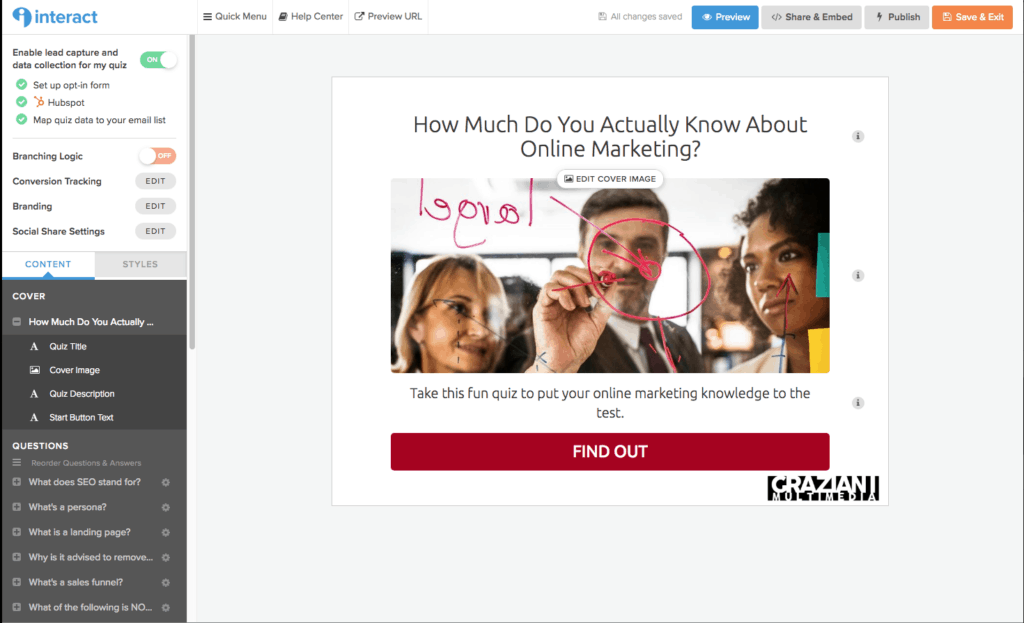 Q & A time
Next, I perused the existing questions and answers in the template. There are some cool options available including using pictures with the question, to accompany the answers, or even a combination. It seemed to me though that the defaults in the template were nice, and I didn't feel like messing with success, so I left these as prescribed in the existing template.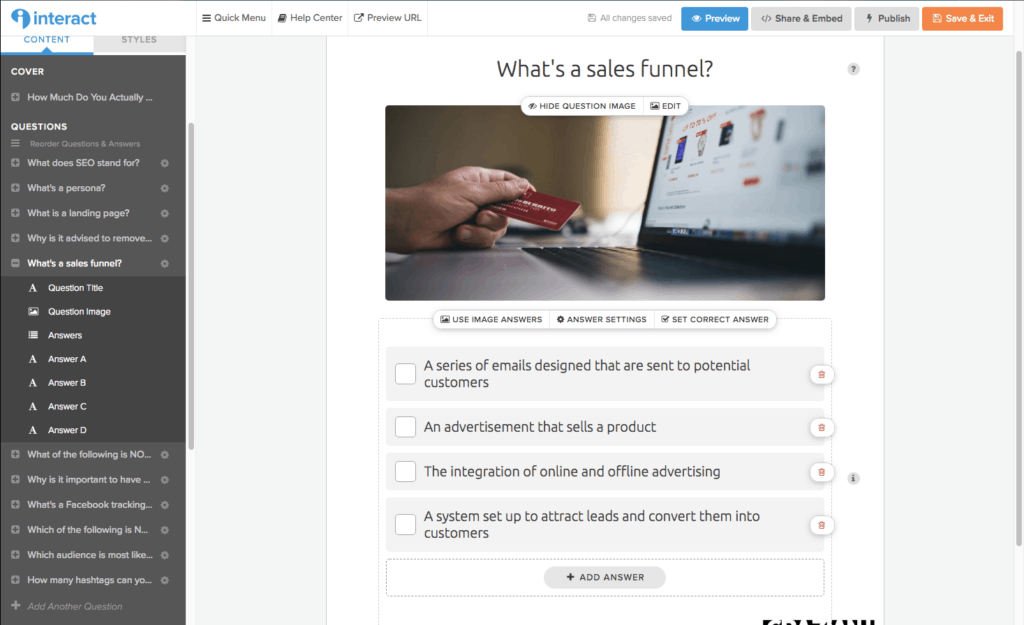 Results
All good content offers end with a call to action, so what did I want people to do? I decided that since this is a top of funnel offer it seemed like a good time to ask them to follow us on Facebook, so I changed the CTA button to blue and linked to our Facebook Page.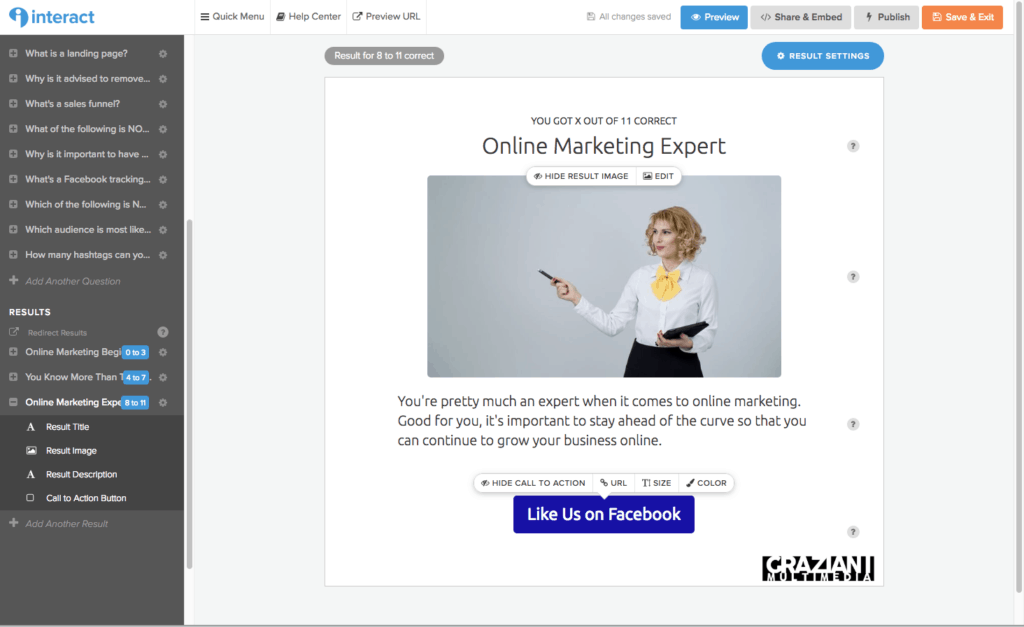 Integration
This is where Interact really shines if you ask me. We are a HubSpot partner agency and we really love to automate as much of our marketing as possible. While lots of apps and software products offer integrations with HubSpot and other platforms, not all integrations are created equal. There's nothing I find more disappointing than an integration that does little more than add a contact to my CRM. We rely on automation, so the cool thing about Interact is that we can set triggers that not only create a contact but add that contact to a workflow.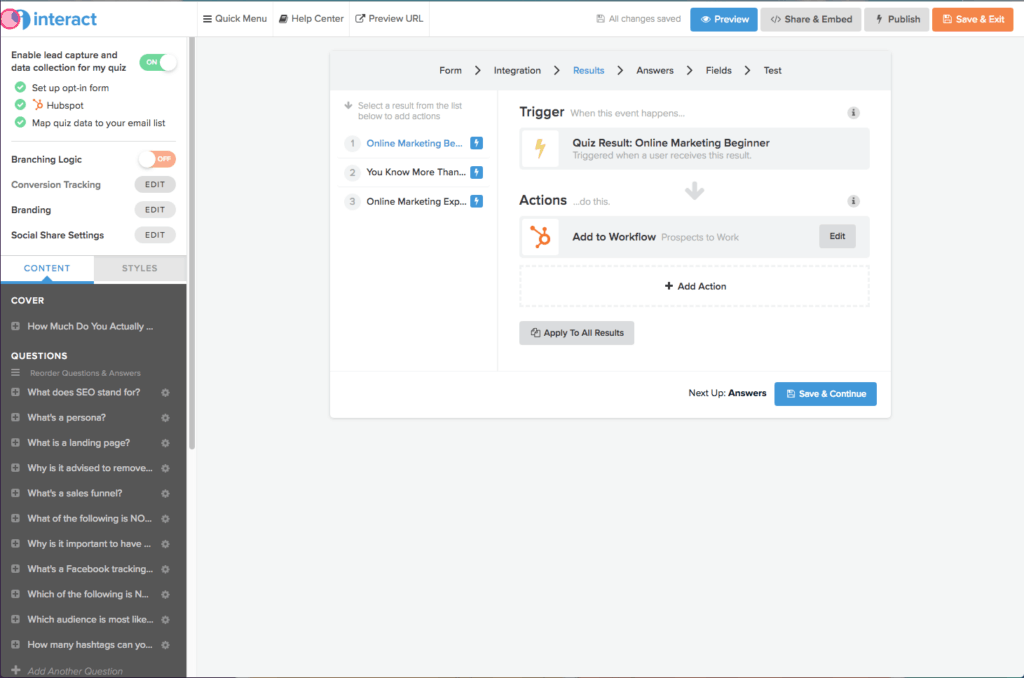 The options here are pretty robust too. You can have different workflows trigger for each of the different quiz outcomes, you can even trigger workflows based on responses to specific questions. It's slick—SUPER slick.
Website and promotion
Okay, so now we have a lead generation quiz, and it can do all kinds of cool stuff for us if we get people to take it. There are lots of options baked into the platform for embedding a quiz on your website. I elected to use the popup after 30 seconds, so odds are pretty good that you already saw it if you've read this far.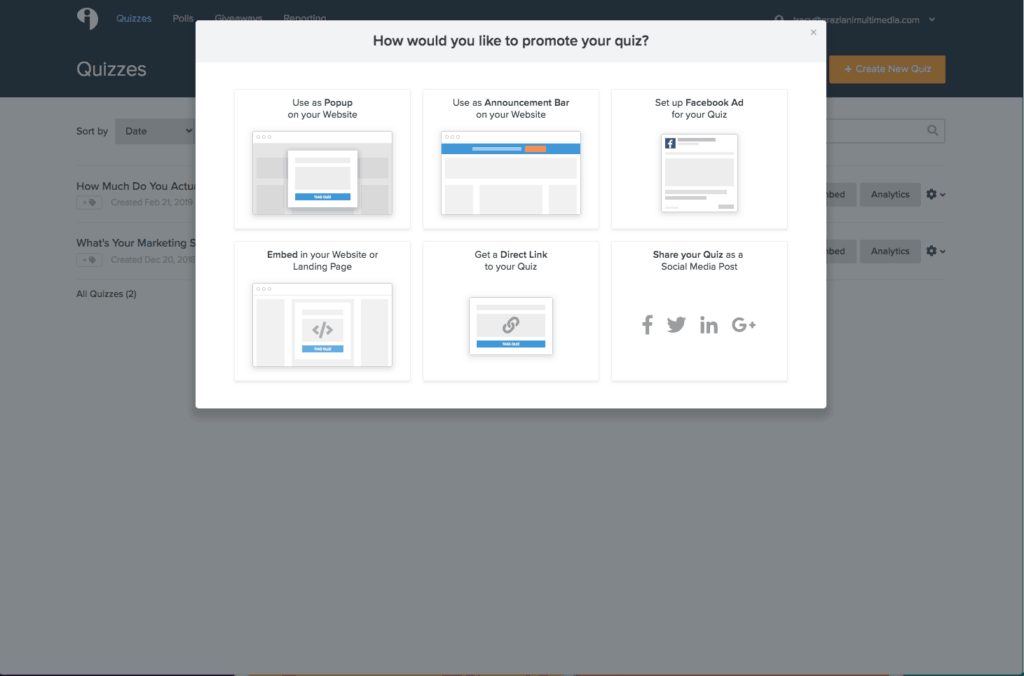 I also decided to share it on Facebook as an ad and it seems to be getting pretty good traction there.
Final Thoughts
I'm really excited about all the ways this can be used for our clients. While you can make sillier "Buzzfeed style" quizzes, there are so many more serious applications for this as well. I imagine using this to create qualifying questionnaires for more sales-based organizations. We could definitely create real assessments that are scored and used to determine where leads are in the sales funnel, honestly, the possibilities are pretty exciting. I'm also happy about the ability to customize such detail. That will allow us to create better quality tools that really meet our client's unique needs. It's well worth taking advantage of the free trial to see if you enjoy it as much as we did.