During any time of crisis, it is imperative to be mindful and tactful with marketing campaigns, and COVID-19 era marketing is all over the place. Today, we will look at some marketing strategies used by businesses during the COVID-19 pandemic. Some are good, some could be better, and some are downright cringe-inducing.
Good: State Farm
State Farm is giving $2 billion back to auto insurance customers during the pandemic. On average, each customer will receive a 25% policy credit to help them during this time of financial uncertainty. The dividend is part of the Good Neighbor Relief Program, which also includes customer payment options and neighborhood philanthropic relief. The credit will be on premiums due from March 20 through May 31, and policyholders don't need to take any action to receive the credit. Their marketing has been focused on what State Farm is doing to give back to current customers, rather than trying to lure in new ones.
Bad: Sandals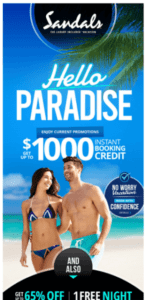 Sandals sent this marketing email three weeks ago, promoting cruises to their resorts. While it is true that the travel industry has been heavily impacted by the pandemic, it's questionable marketing to promote leisure travel given the current circumstances. Many people have gotten gravely ill and passed away due to COVID-19 outbreaks on cruise ships, and stay-at-home orders in place across the nation to safeguard public health.
Could Be Better: Gorilla Glue
Gorilla Glue's newest commercial is a typical advertisement. It isn't bad, but it also doesn't address anything happening with COVID-19. The website also doesn't address the current pandemic, or the company's response to the situation. Gorilla Glue would benefit by making a page dedicated to their COVID-19 response, how they are helping communities, and what they're doing for their employees.
Good: Care.com
Care.com has created a thoughtful advertising campaign that thanks essential workers and encourages social distancing. In addition to commercials, the campaign also includes information on COVID-19 and a podcast partnership with NPR discussing parenting during the pandemic. Care.com is also offering a month of free premium access to senior citizens and frontline workers, so they are able to use the website to locate caregivers during this challenging time.
Bad: Hobby Lobby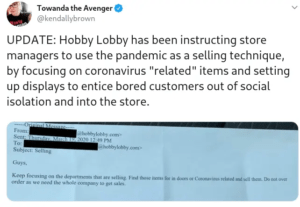 A couple weeks ago, Hobby Lobby quietly re-opened stores in several states, despite state mandates. The Hobby Lobby corporate office provided managers "talking points" as to why the non-essential business was open, and local authorities had to make the stores close again. All stores finally closed effective April 3rd after Ohio Attorney General Dave Yost sent a cease and desist order to the corporation. Until the stores were shuttered, Hobby Lobby continued to send marketing emails en mass, encouraging people to visit the stores to purchase goods. Most uncouth, however, are the internal memos that have surfaced, which encouraged employees to use COVID-19 as a way to sell more merchandise, among other questionable tactics.
Could Be Better: Big Lots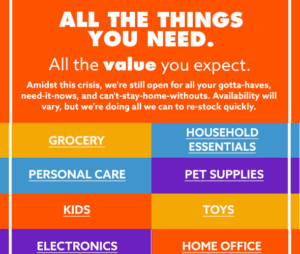 Big Lots acknowledges the current atmosphere of the pandemic and offers online shopping. Despite this, they continue to send out emails daily featuring in-store savings, coupons, and sales. Their email headings contain phrases such as "Ready for another week to work from home?" and "Kids still home? Keep them busy," but the company hasn't done much to showcase their response to COVID-19 and what they're doing to protect employees and customers. Their marketing is only slightly pivoted to encourage online shopping, and it takes some digging to find their COVID-19 response. Big Lots could greatly benefit from highlighting this information in their marketing emails, rather than just focusing on sales.